Book reviews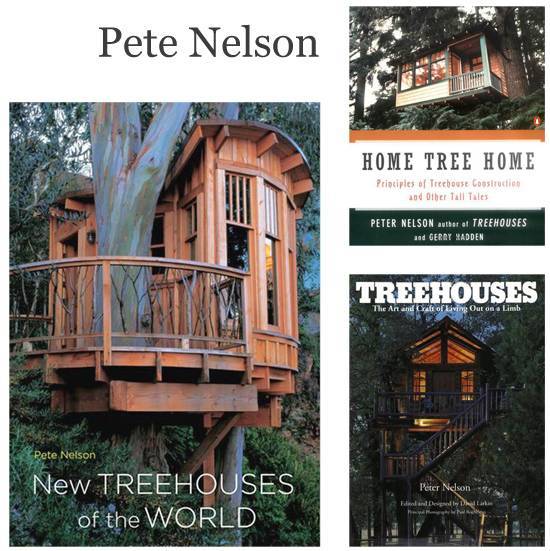 Pete Nelson is a presenter of Treehouse Masters on Animal Planet and works for Nelson Treehouse near Seattle in the Pacific Northwest.
The latest publication by Pete Nelson is Be in a Treehouse, this time returning to the earlier format with a large section devoted to construction techniques. This includes up-to-date advice based on the latest tree attachment methods, so you can benefit from the experiments carried out over the last 20 years.
Nelson's Home Tree Home is a comprehensive volume with lots of advice on choosing the right kind of tree and building strong frames, along with real life examples of larger structures. It follows on from his first treehouse book, Treehouses which has a mixture of practical tips and examples of existing treehouses.
Nelson's later books, such as New Treehouses of the World, contain less construction advice but focus instead on an incredible selection of treehouse photography, including multi-level structures and children's hideaways. You'll find this type of book is great if you want to see some inspirational treehouses to get your own designs flowing.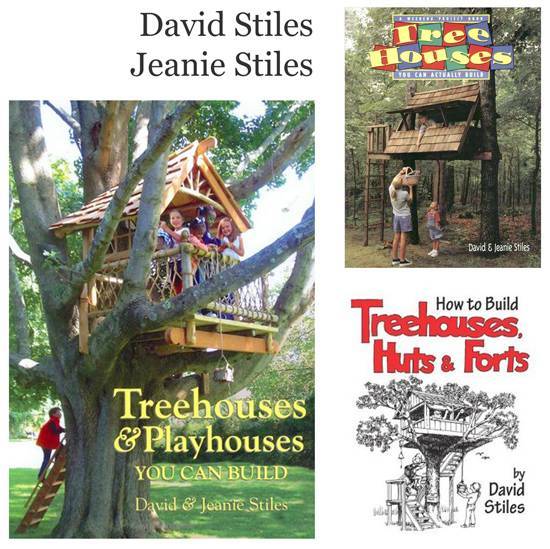 The Stiles' books are amongst the most popular about treehouse construction and their similarity of title is indicative of the consistent style across the range. They cover a large selection of basic to medium complexity structures for beginners, with a lot of ingenious ideas to make each treehouse unique. The designs are generally scaled for children but the concepts can be used to design larger structures.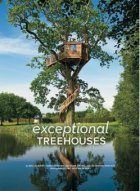 Exceptional Treehouses
Alain Laurens et al
More information on Amazon.co.uk
Thirty grand treehouses in this second book by European builder Alain Laurens.
Tree Houses
Philip Jodidio
More information on Amazon.co.uk
Large coffee table volume of fifty unusual and very inspiring treehouse designs from around the world.
Treehouse Chronicles: One Man's Dream of Life Aloft
S Peter Lewis

More information on Amazon.co.uk
The story of how a very serious treehouse came to be. Some tricky engineering problems were overcome to get this mammoth structure into its resting place and the finish of the two floored interior is superb. Written in a narrative form, this is sure to get you reaching for a pencil and paper to draw up your plans.
A Treehouse of Your Own
John Harris

More information on Amazon.co.uk
Practical building manual by the owner of The Treehouse Company (now closed), John Harris. The book covers the construction of a circular treehouse built in an oak. There are a lot of good photographs on each stage and tips for alternate solutions to the various problems that come up as the build progresses. One thing lacking is advice on flexible joints as they aren't used in this single tree configuration.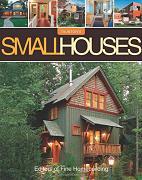 Small Houses
Fine Homebuilding
More information on Amazon.co.uk
A packed collection of articles from Fine Homebuilding magazine, featuring 37 small scale houses. Many of the solutions to small-scale living are relevant to treehouses, particularly if you are planning to include a kitchen and bathroom. A lot of clever ideas for the main house, once you have your floor and supports worked out.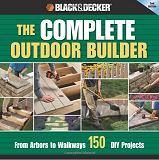 The Complete Outdoor Builder
Black and Decker
More information on Amazon.co.uk
Construction information on a wide range of outdoor landscaping and building projects, with plenty of very clear photos. A lot of the content is relevant to treehouse building, for example preparing post foundations for decks and raised areas, building steps or laying out paved areas underneath the structure.