Extract from NY Times article, March 7 2003, © New York Times
- all prices are from 2003
---
Out on a Limb: Tree Houses for Adults
By SETH KUGEL for the New York Times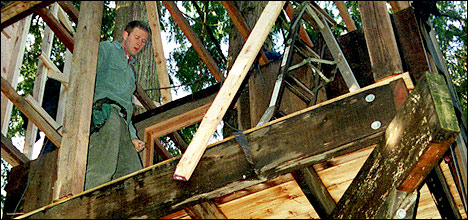 LEAFY ESCAPES In Snohomish, Wash., Daryl McDonald is building a house in a Western red cedar for the TreeHouse Workshop.
KIT AND KAREN SICKELS want a treehouse. They are not grade-school siblings begging their father to build them a backyard fort, nor environmental advocates plotting a yearlong stay at the top of a redwood to protest logging practices. They are just a pleasant couple from Southern California—he a 64-year-old semiretired real estate developer and she a 50-something former teacher—who want to live part time in a tree.
Two years ago, they bought 80 rocky acres several hours from their house in La Jolla. Now that they have transformed it with apple orchards, olive trees, grapevines, wild turkeys, pheasants, even 13-foot sunflowers, they need a place to stay and enjoy it. So they are planning a treehouse. A $150,000 treehouse, to be precise.
Mr. and Mrs. Sickels had long talked about the possibility. "It's always intrigued me," Mr. Sickels said. "When you enter a treehouse, you really are kind of separating yourself from the earth, isolating yourself. We really saw it as a kind of private retreat for the two of us."
The search for the treehouse of their dreams brought Mr. and Mrs. Sickels to the TreeHouse Workshop Inc., a Seattle design and construction company. Pete Nelson and Jake Jacob, the owners, are among a handful of builders specializing in treehouse construction for adults, and they are perhaps the best known of this small group, since Mr. Nelson has published three books on the subject. (Each also has a second business: Mr. Nelson builds traditional homes, and Mr. Jacob reclaims and remills wood from demolitions.)
Since the TreeHouse Workshop was founded in 1997, the two men have built about 40 treehouses for clients, most in the $40,000 to $60,000 range. "It startles me how often people say: 'Treehouses? Cool! But you can't be serious?' " Mr. Jacob said. "Well, we are serious."
One of the charms of treehouses, he said, is that like cabooses or tugboats or spaceships, they fascinate the child in almost every adult. "A treehouse is kind of like space travel in that it's something that captures your imagination when you are a kid," he said. "Today, the average middle-aged American can't go out and become an astronaut. But you can have a treehouse."
If the TreeHouse Workshop builds the house for Mr. and Mrs. Sickels—the two sides are still in negotiations—it will be its biggest creation to date. Most of the structures are built as guesthouses, retreats or offices near a main house. Electricity and heat are commonplace, and many have a sleeping loft or futon. A bathroom, equipped with an incinerating toilet, is optional. The houses are built mostly from recycled wood from Mr. Jacob's business.
A tree is a living, growing thing, Mr. Nelson and Mr. Jacob remind clients, adding a level of complexity to construction that is absent in building, say, a fishing cabin. Before starting any project, they "interview" the trees. That means climbing into them and getting a sense of how strong they are.
"I don't want to sound New Age or something," Mr. Jacob said, "but when I go and interview a tree, part of it is just checking out if the tree is cool about this idea."
This, he explained, is because, over time, the house will literally become part of the tree it is attached to. A healthy, vital tree will treat a properly installed treehouse as it would additional branches, growing wood to support it. That is why, they have learned, heavier, multilevel treehouses are often best built in stages. The first platform is added, perhaps for a porch and ground floor, then over the next two years, the tree adapts to the load. If done properly, by the time the second level is added, the tree is ready for still more weight.
For treehouse fans, a highlight of the year is the annual World Treehouse Conference, held each Columbus Day weekend by Michael Garnier, the owner of the Out 'N' About Treehouse Treesort, a bed and breakfast in the branches near Cave Junction, Ore.
Mr. Garnier is something of a legend in treehouse circles for his almost uncanny ability to envision and then install sturdy, level foundations in trees. The conference typically attracts 40 to 60 people, ranging from builders like Mr. Nelson and Mr. Jacob to novices who are itching to build their own treehouses.
It was at the first two World Treehouse Conferences, in 1997 and 1998, that a breakthrough in treehouse technology was developed. In 1997, Charles Greenwood, a mechanical engineer, suggested that instead of pinning beams to a tree, builders should perch the treehouse platform on steel bolts and steel cuffs.
Over the next year, participants experimented with different designs and tested them. A one-and-a-half-inch-thick bolt surrounded by a cuff, both made of Grade 5 steel, was the winner, supporting 6,500 pounds in a Douglas fir. A few modifications later, this arrangement now holds up to 8,000 pounds. The design came to be called the Garnier Limb, after the Treesort's owner.
The TreeHouse Workshop uses Garnier Limbs or variations for all of its houses. Not surprisingly, Mr. Garnier does, too, in all of the treehouses he builds for his clients. Still, his treehouses differ from those of Mr. Nelson and Mr. Jacob.
He tends to use more new wood, which cuts costs, and often builds higher off the ground. One of his recent creations, in McMinnville, Ore., was built for Ron Olisar, an engineer, and Dr. Sally Godard, a psychiatrist. Their house, 32 feet up a towering black walnut tree in their backyard, has a sleeping loft accessible by ladders from two lower decks.
Despite the growth of the industry, the difficulties facing treehouse builders remain formidable. Obstacles go well beyond technical problems (building in a tree), image problems (treehouses are just for children) and safety concerns (convincing clients to have confidence in a six-ton structure that sways and creaks in the wind).
Builders, for example, have to deal with incredulous, or hostile, building inspectors. Mr. Garnier was involved in a nearly decadelong legal battle with local authorities over safety issues.
Insurance is another problem, although some policies may cover them as guesthouses. "A motor home, you can insure," Mr. Jacob said. "There are no actuarial tables for treehouses." Not yet, anyway.
Mr. and Mrs. Sickels recently came to Seattle to see the TreeHouse Workshop's products. Over two days in early February, they visited half a dozen treehouses in the area, including one built for Peter Jewett, a geologist, and Lolly Shera, a teacher, and their two children, who have five acres of land in Fall City, Wash.
The house, built last fall in two cedars and a maple, has one large room with alderwood interior paneling and cedar exterior siding. The unfinished wide-plank floors are made of Douglas fir, and the railing of the staircase is made of tree branches. The family is still figuring out exactly how to use the house. The children have held sleepovers there, and Ms. Shera has used it as an artist's studio.
The Sickelses also visited Sydney Mullock's treehouse, hidden in the woods maybe 100 yards from the main house. The leaded-glass windows were salvaged by family members and friends, typical of a TreeHouse Workshop design. The "scrounging aspect" of the process, Mr. Jacob said, is something clients seem to enjoy.
Inside, the house is decorated simply: a table with a flowery cloth and a vase of flowers, a hutch with little spice bottles and a futon for sitting or sleeping. It's half bare-bones country inn, half Little Red Riding Hood's grandmother's cottage.
At every treehouse, Mr. and Mrs. Sickels peppered Mr. Nelson and Mr. Jacob with questions and comments—they liked a peaked roof here, didn't care for a porch railing there.
Standing inside the Jewett-Shera house in Fall City, they asked if they could have skylights in their house, to be built in California live oaks. The Fall City house, Mr. Nelson explained, could not have them because it was built in cedars, whose branches could fall and shatter a skylight.
But with live oaks, branches would be no problem. "The top of the tree is right there, so they don't gather too much steam," Mr. Nelson explained.
On the last day of their visit, Mr. and Mrs. Sickels discussed construction details and cost-cutting ideas with Mr. Nelson and Mr. Jacob over breakfast. Though their new home would be huge—1,000 square feet—compared with most other treehouses, the Sickelses said it was not the size that appealed to them most but rather the opportunity the house would give them to feel relaxed and cut off from the world at large. It would be a place just for the two of them.
"It's not built for a family," Mr. Sickels said. "It's not really built for that many visitors. We've had bigger. We've had really big. And big is not beautiful."
Trying It Out
If you don't want to build a treehouse but would like to try the experience of staying in one, here are some options around the country:
CEDAR CREEK TREE HOUSE Ashford, Wash., just outside Mount Rainier National Park. This 16-by-16-foot cabin with a sleeping loft and bathroom is built 50 feet up a Western red cedar tree. It operates with solar power and has a propane stove and mountain views. It is $250 per night, double occupancy (360-569-2991; cedarcreektreehouse.com).
OUT 'N' ABOUT TREEHOUSE TREESORT Near Cave Junction, Ore. Owned by Michael Garnier and home to the annual World Treehouse Conference, the Treesort has nine treehouses, three of which have bathrooms, with three shared baths on the ground for those without. Prices range from $90, double occupancy, to $160 for a four-person suite (541-592-2208; treehouses.com).
LOTHLORIEN WOODS HIDE-A-WAY White Salmon, Wash. At the base of Mount Adams near the Gifford Pinchot National Forest and just north of the Oregon border. The treehouse has a private bath, full kitchen and hot tub on the deck. It is $150 a night, double occupancy; tax, towels and a bottle of local wine included (509-493-8733; tranquilatree.com).
HANA LANI TREEHOUSES MAUI, Hana, Maui, Hawaii. These three treehouses have ocean views, hot showers and toilets but no electricity. Part of a 20-acre flower farm on the east side of Maui. They are $100 to $125 for two, with room for more at $5 per person.
POST RANCH INN Big Sur, Calif. The seven treehouses at this luxury resort and spa are actually supported by 10-foot stilts, not the trees themselves. The triangular rooms have king-size beds, slate baths and wood-burning fireplaces. They are $695, double occupancy (800-527-2200; postranchinn.com).